Hello,
a few days ago, someone asked, why his game won't load anymore. He also told me the error message, and today I wanted to start Factorio but then this: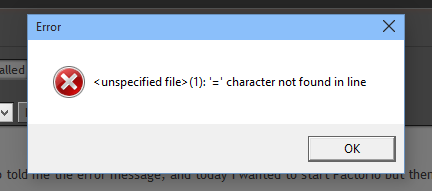 Code: Select all
<unspecified file>(1): '=' character not found in line
This happens when I open the Factorio.lnk in my start menu and even the Factorio.exe in the game files gives that error.
I don't know where it comes from, I just changed the F-mod version manually (editing info.json and renaming the .zip package) to test a new build of the F-mod but before that, everything worked fine.