My game is running at 1/3 speed for no good reason. My cpu is at <20% usage. My base is getting larger, and there are tons of large alien bases, but it still makes no sense for the game to slow down, since my cpu isn't being used up. And frankly, my base isn't THAT big. I've basically mastered a large area around the starting area. I have a total of about 1200 bots. I do have a lot of mods installed, but again, without the cpu being taxed, I don't get why it would slow down.
Operating System: Windows 10 Home 64-bit (10.0, Build 14393) (14393.rs1_release.161220-1747)
Processor: Intel(R) Core(TM) i7-6700K CPU @ 4.00GHz (8 CPUs), ~4.0GHz
Card name: NVIDIA GeForce GTX 1070
Dedicated Video Memory: 8145 MB
System Memory: 16384MB RAM
I've done a pretty thorough search of this issue, and none of the recommended fixes helped:
1) I'm not on a laptop, so power settings were always set for performance.
2) I've set the video memory usage to "All" and started the game with the launch option, "--max-texture-size=8196"
3) I've tried in both multiplayer and single player
Below I'm attaching the image of my game with F5 pressed: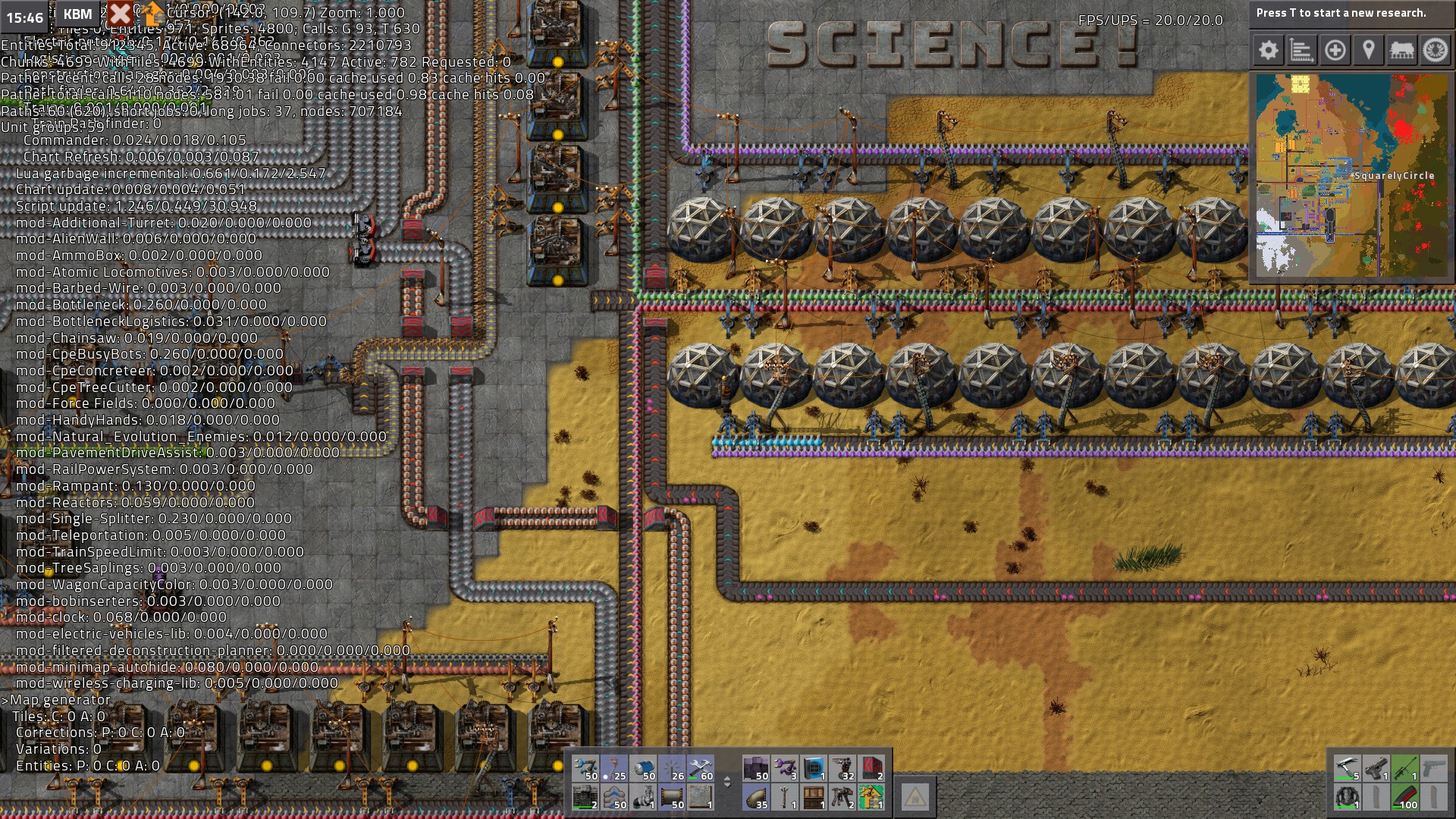 I get that the fps/ups being equal means that the rendering is keeping up with the game logic, so it must be a cpu bottleneck, but I don't get why that would happen or what I can do to fix it. As my system stats demonstrate, the computer should be more than capable of running this game under intense circumstances.
A new game isn't this slow; it's only after dozens of hours of playing that it slows down like this.
Here's my save file:
http://www.mediafire.com/file/5bqzx32x8 ... NPJS_8.zip
And this is my mod's list (of note, my unmodded game with a base of somewhat similar size also seemed to slow down, but I didn't look much into it or verify that it actually was slower):
-----------------------------
-----------------------------
Thanks in advance for any suggestions or insights.