I like the main bus concept but find that belts full of all manner of items, while relatively simple, are rather wasteful of both space and resources.
For early game I've devised a system that puts (almost) all your building requirements in one easy to get at place. First get your red/green science going. Then... ignore the initial resource line till it's time for blue science. Make ANOTHER line of copper and iron plate like so.
You make a fresh line as you need lots of resources to pull this next machine off without damping either research or building.
Now make a circuit factory off to one side of your plates like so.
This can be compacted a bit more but I like it as is. It is a beast at knocking out circuits, I box excess almost straight away to help when red circuits kick in. Note the smart inserters for loading iron to the underground belts - other inserters may pick iron and gum up the works.
Now you just need to add a line of cogs and you're good to get on with it. Throw everything for fast building in boxes all in one row. All inserters, blue buildings, mining drills, lights, belts, underground belts, splitters and of course circuits...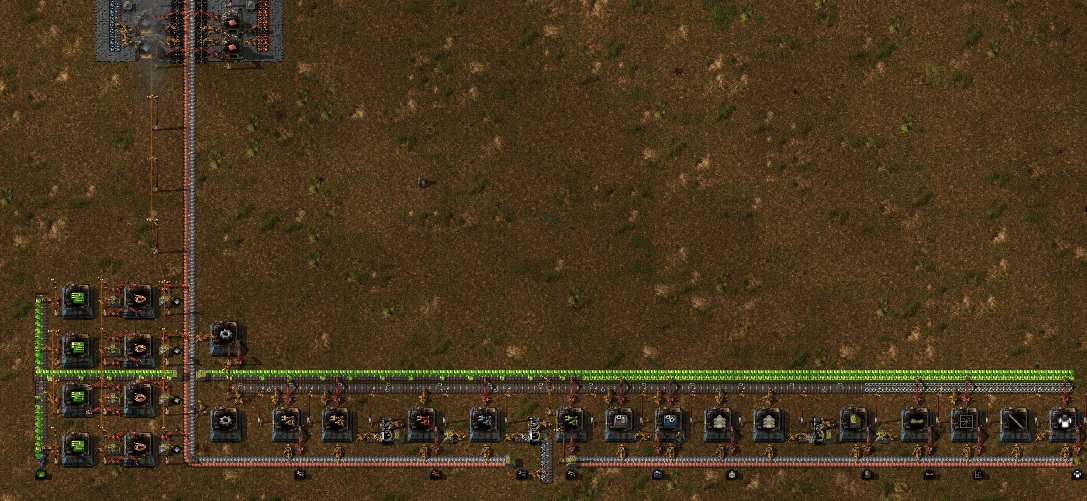 It is assumed you've thrown some steel smelting and brick making together for upgrading furnaces as you move past the circuit machine to the Building Store proper - you will need the resources. If you have, provided you don't forget about your power, you can start ramping things up fast.