In yesterdays Friday Facts it was mentioned that the fluid wagon would be pushed back to 0.14. The fluid wagon is a great idea and how it's done in the real world after all. This should be applied to other parts of factorio.

The Coal Wagon
A wagon which could only hold coal, but a large quantity of it. It would be a natural extension to the train system, giving another choice in how to accomplish your goal. Large base builders who use steam would likely nerd-gasm if they saw the picture below..
A nice unloader mechanism would be needed, in the real world they might use something like the following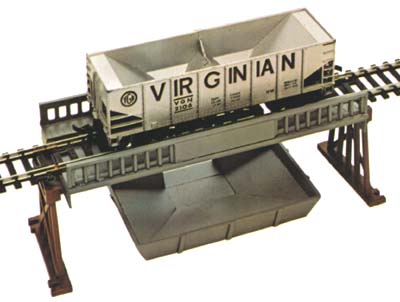 A youtube video showing a 'tumbler' in use
https://www.youtube.com/watch?v=pt8ffgVZbBY
https://www.youtube.com/watch?v=ZQgUrqOXnXc
Though in Factorio the actual mechanism used could vary from chutes, to gravity fed like above, perhaps even something similar to the unloader already in development discussion.
This new wagon wouldn't just be a new shiny, or new way to move coal on mass, it could also add to train gameplay. Here's a quote from wikipedia;
Australia BHP Run on 21 June 2001, comprising 682 wagons and hauled by eight 6000 hp General Electric AC6000CW diesel-electric locomotives controlled by a single driver with a total length of

7.353 km

on the 275 km iron ore railway to Port Hedland in Western Australia – total weight 99,734 tons[23]
South Africa Sishen–Saldanha, South Africa. Run on 26–27 August 1989, comprising 660 wagons,

7.302 kilometres (4.537 mi)

long and a total weight of 71 765 tons. The train comprised 16 locomotives (9 Class 9E 50 kV AC electric and 7 Class 37 diesel-electric).[24][25]
Soviet Union Bulk coal train from Ekibastuz to the Urals, Soviet Union, 20 February 1986. The train consisted of 439 wagons and several diesel locomotives distributed along the train with a total mass of 43,400 tonnes and a total length of

6.5 kilometres (4.0 mi)

.[26]
These trains are quite long. Think of a slowish moving, long train moving across you're busiest train intersection. We'd have to design train networks slightly different to accommodate this. And I think that would be a neat challenge for us.
---------------
Edit, additional pictures for consideration
https://www.youtube.com/watch?v=g0TjRq6vMI8
a tipper in use in the real world
https://www.youtube.com/watch?v=ZQgUrqOXnXc