Smart Inserter

Posts: 2161
Joined: Sat Mar 12, 2016 4:19 pm
Contact:
Clever load securing.
Needs no shovel just a quick start for unloading.

Transport Belt Repair Man
My little mods: Link | My favourite mods: Bob's Mods | Angel's Mods | Yuoki Railway Core | EvoGUI | Logistic Train Network
Factorio Cheat Sheet by Denis Zholob

View unread Posts
---
Inserter

Posts: 42
Joined: Sun Aug 07, 2016 4:12 am
Contact:
---
Filter Inserter

Posts: 306
Joined: Fri Oct 16, 2015 8:40 am
---
Global Moderator

Posts: 4619
Joined: Fri May 30, 2014 8:54 am
Contact:
The inserter at the beginning is not that Factorian

Koub - Please consider English is
not
my native language.
---
Filter Inserter

Posts: 491
Joined: Wed Jul 12, 2017 5:45 pm
Contact:
That is a biological smart inserter. It is slow but can handle multiple drop points.
---
Smart Inserter

Posts: 2047
Joined: Sat Jun 11, 2016 6:41 am
Contact:
Automated freight trains hauling ores are now reality in Australia. I'm just a little bit disappointed they don't look like Factorio locomotives.
https://www.spglobal.com/platts/en/mark ... e-at-mines
https://www.youtube.com/watch?v=xP03j4nwtOo
---
Filter Inserter

Posts: 836
Joined: Sun Jun 15, 2014 11:39 am
Contact:
its very interesting to see it pulled off but wish there was a bit more information on how they did it. so far best details ive seen is that they have cameras on the trains and crossing and a metric butt load of senors
---
Manual Inserter

Posts: 4
Joined: Sat Aug 19, 2017 2:56 pm
Contact:
Hearing the music in that video i am actually missing the signages of "aperture laboratories" on the machines..
---
Filter Inserter

Posts: 306
Joined: Fri Oct 16, 2015 8:40 am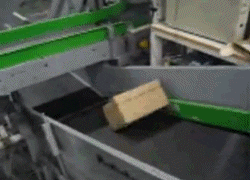 My fekin amazon parcel, no doubt..
Last edited by
Ghoulish
on Tue May 07, 2019 7:02 pm, edited 1 time in total.
---
Filter Inserter

Posts: 306
Joined: Fri Oct 16, 2015 8:40 am
---
Users browsing this forum: No registered users