...is getting out of hand. 100+ hours in, and the sprawl is consumes so much that feeding it fast enough is almost unmanageable. (Sorry for the image heavy thread. The images get cutoff, so click them to see the full image at Imgur.)
11 dry wells aren't enough to supply the 164 Steam engines I need to keep this thing chugging. Especially after I have a dip and have to take offline everything but the powerhouse (the portion dedicated to power production.) When I need to bring the rest back online, it chews 83 MW until the roboports are charged.
Then it settles down to a manageable 65/70 or so. Frankly, the roboports are the real reason I need so much energy.
If the bots were a bit smarter about choosing their path, I wouldn't have quite so much redundancy. Ah well. With 1300+ logistical bots, you kind of have to have redundancy. Also pictured below is "The Hive" where new bots are automatically moved to, for activation. It also serves as a massive storehouse. For some reason, a lot of the logistic bots seem to go back to The Hive when their jobs are done. No idea if it's just my imagination or what.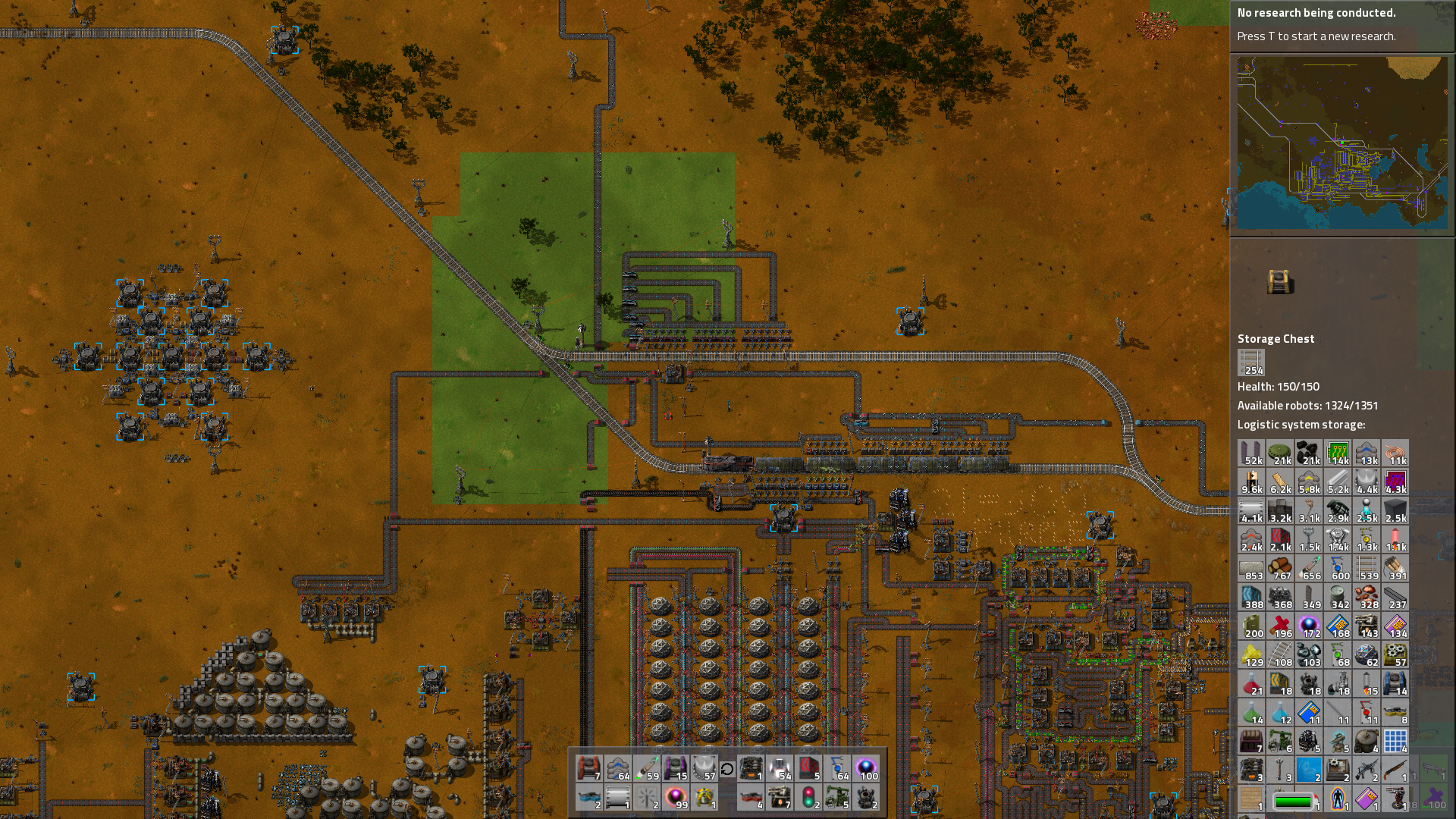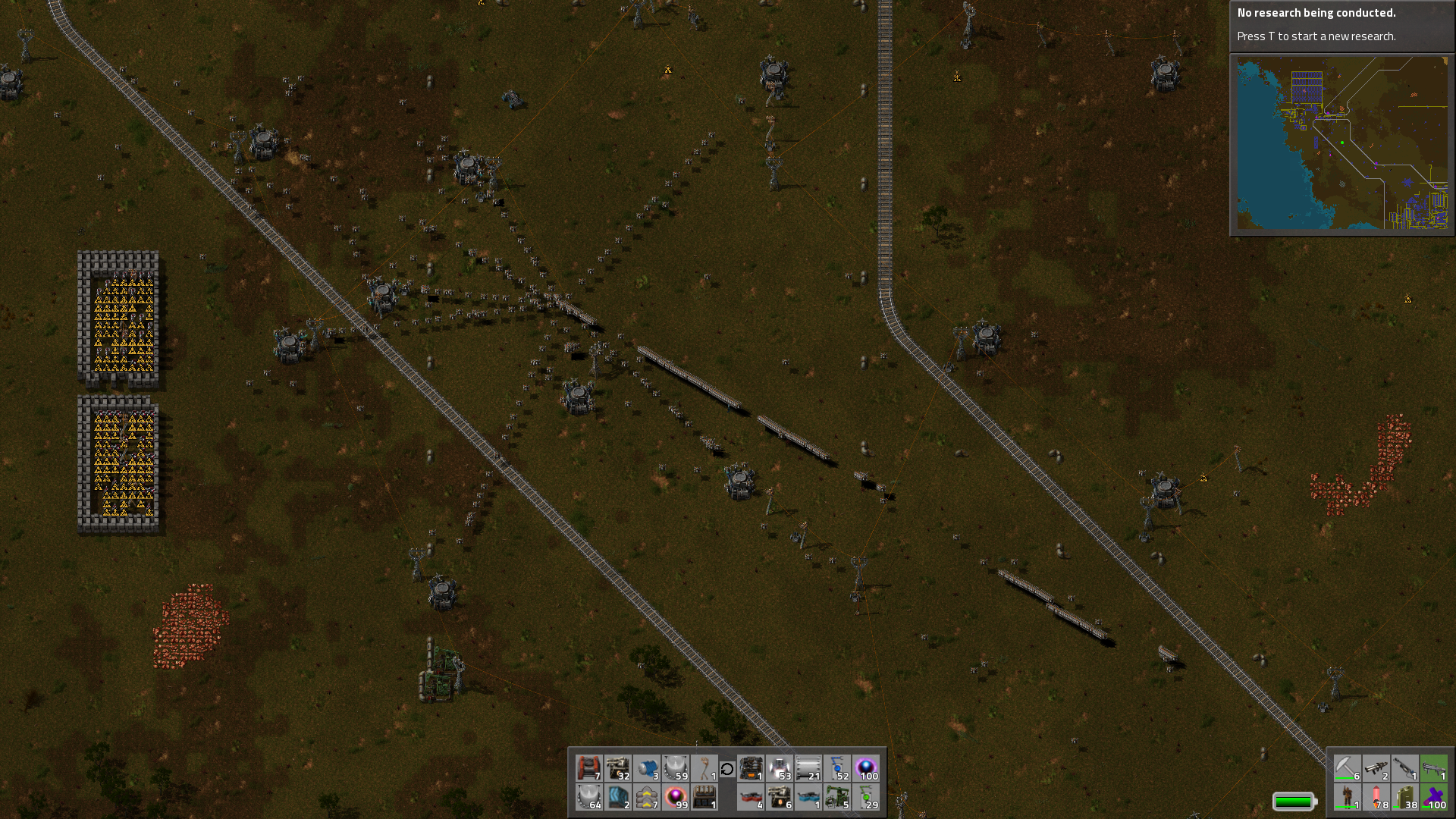 Although it uses quite a bit more piping than is necessary, like the visual layout of my factory's powerhouse: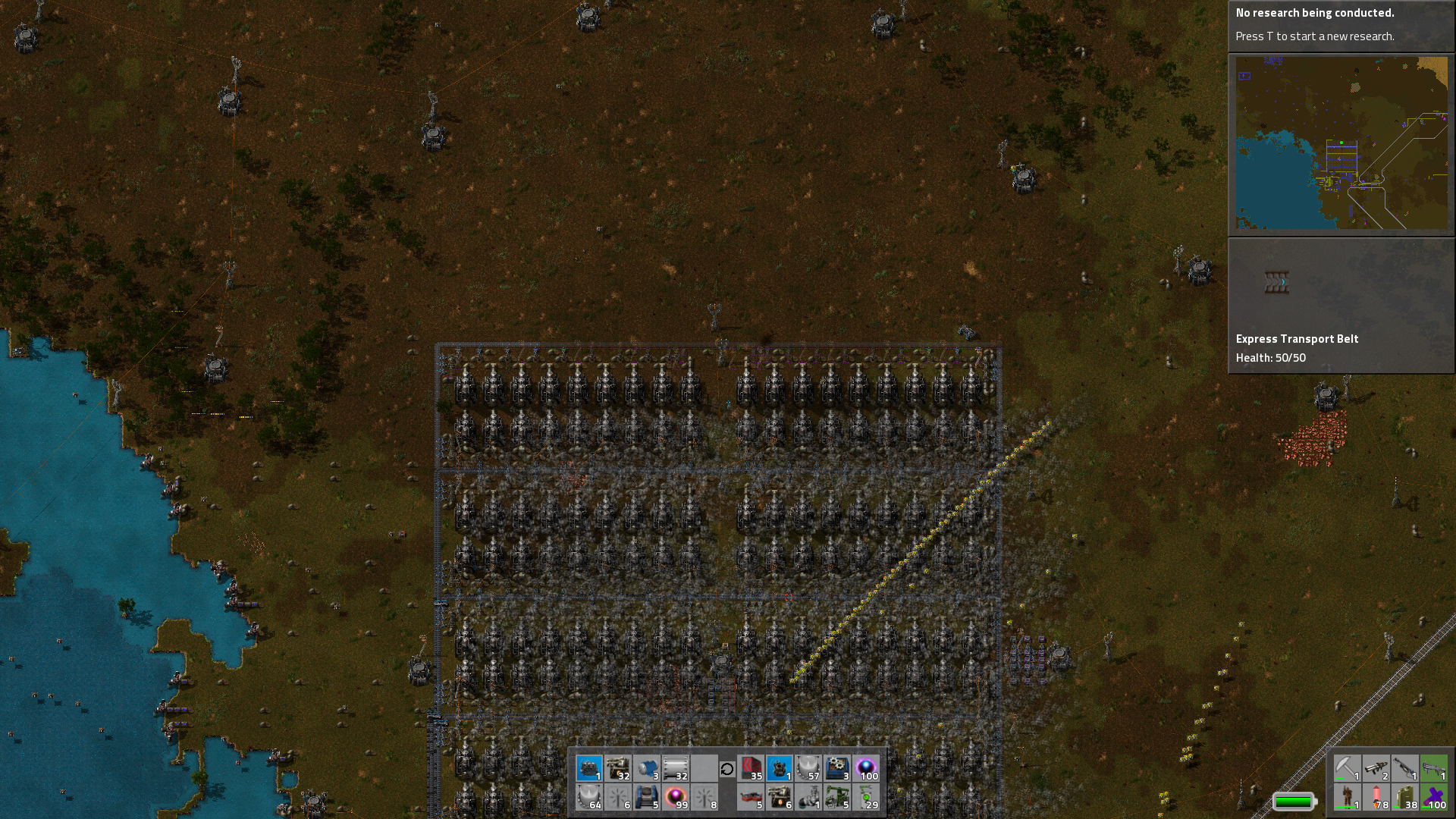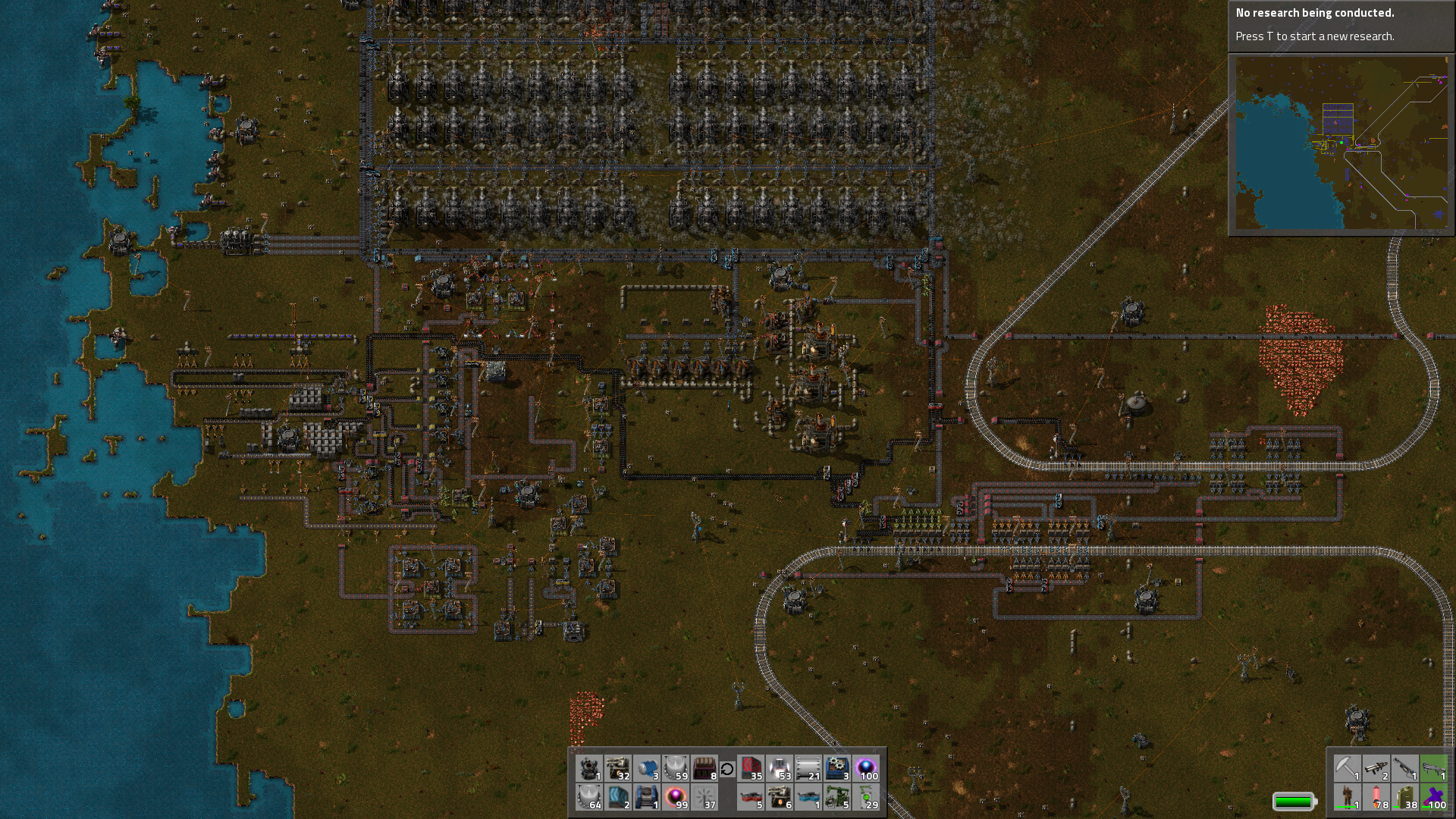 Technically, I have 34 dry wells, but the rest are mostly fueling the furnaces and giving me batteries/plastic/lube. I'm in the process of setting up a rail line that scrapes any solid fuel that survives the line, to send off to my powerhouse, but having some trouble with it and it probably won't be enough. The problem is that, even though it's my fourth train, it's the first one using the same line as another. I haven't quite figured out rail signals (although I learned something new about them recently, that will probably fix that) so there have been several collisions.
Ignore the winding conveyor belts in the upper right corner, that spaghetti is a leftover remnant that I just leave running. It produces some useful stuff, but it'd be more trouble rebuilding than its worth.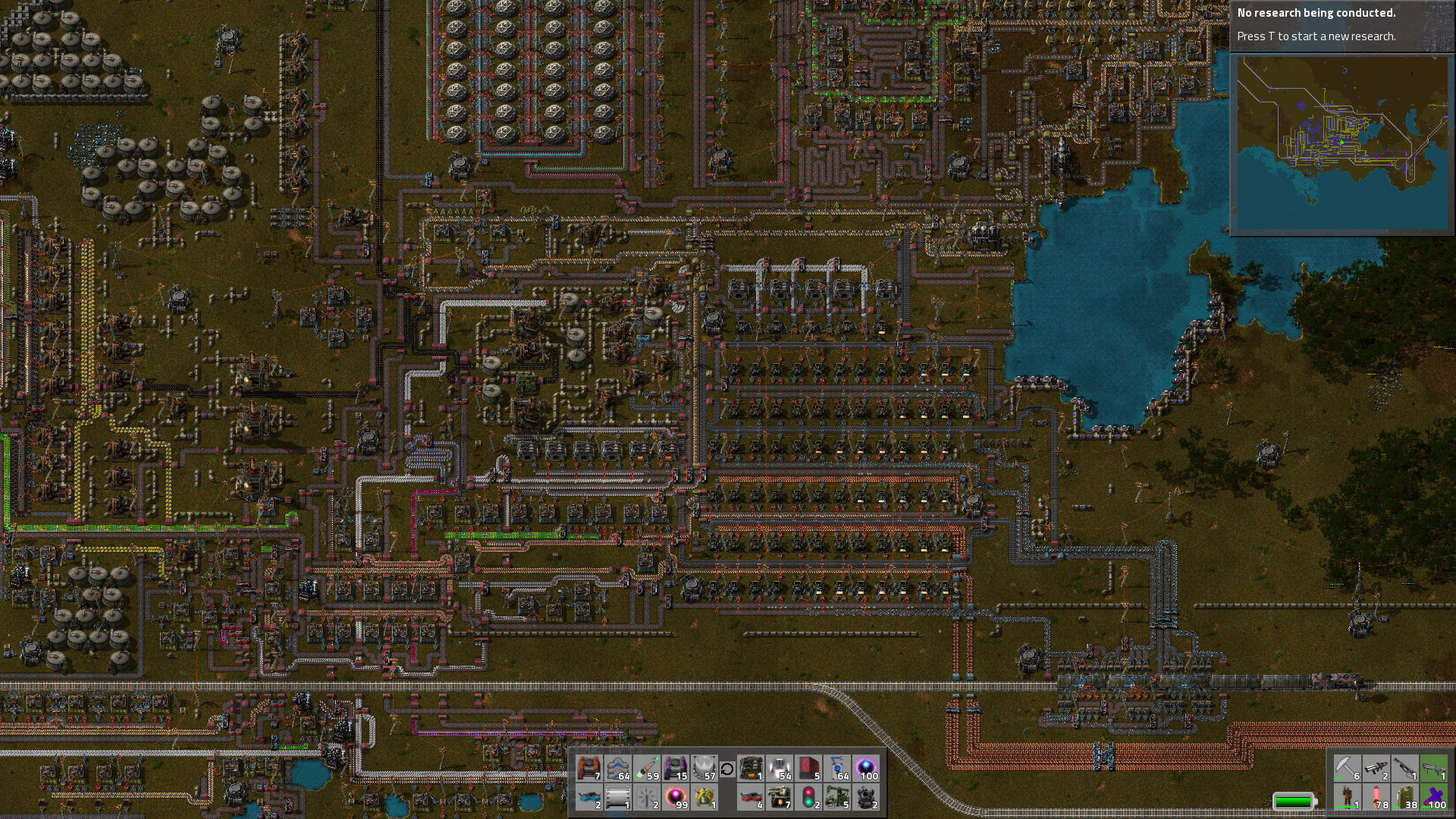 I have a distinct tendency to get carried away with expanding and neglecting my research until there's something specific I want. I guess I just don't want it to end. Then again, I'm woefully under prepared to defend this place when I get that last rocket system. The biters are set to peaceful. I am working on preparing for the final confrontation, though.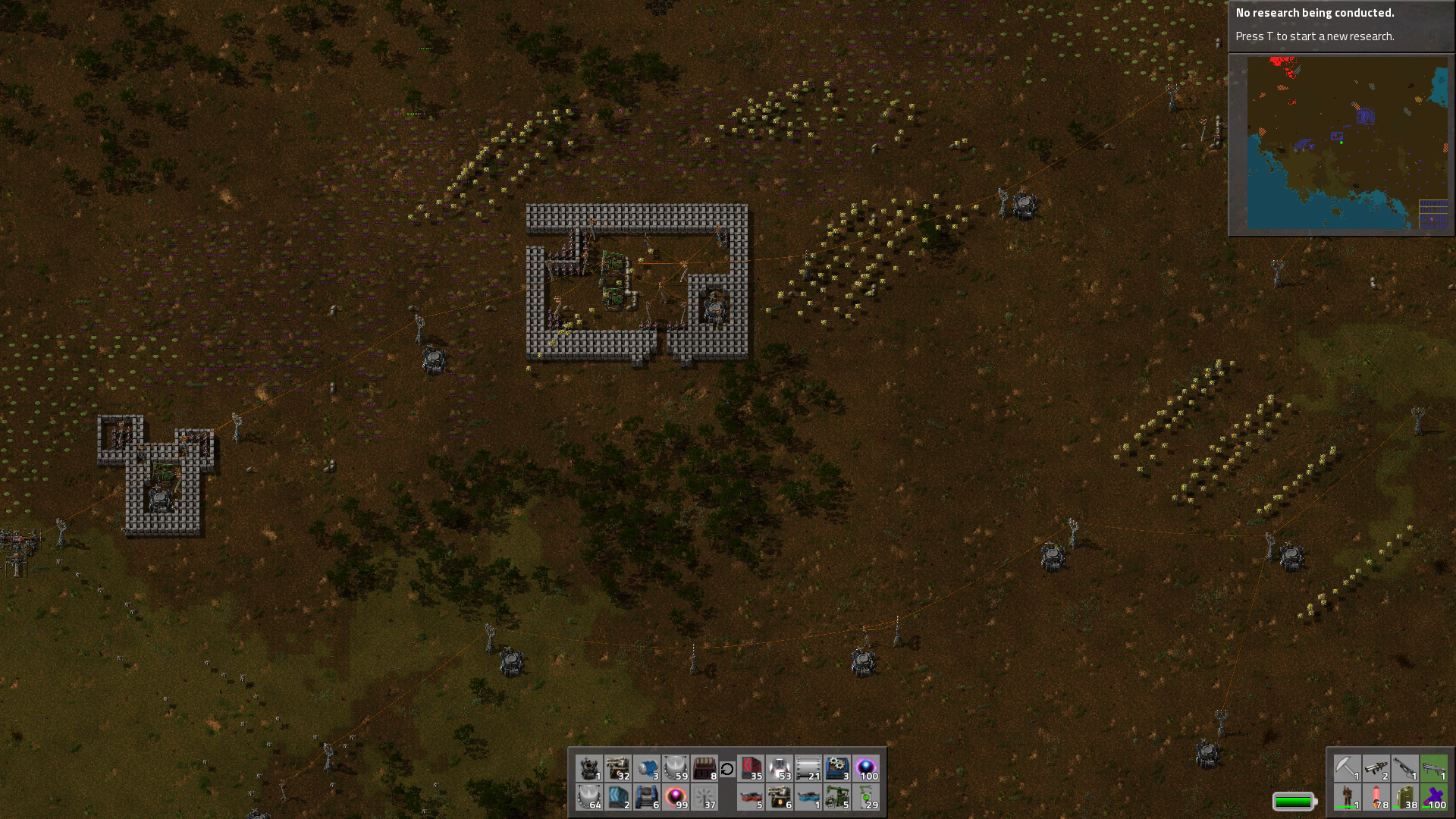 Not pictured is my destroyer capsule assembly line. From raws, to capsules. Technically, I partially decommissioned it after it finished 300 capsules. I wanted more resources elsewhere, but left select parts operational so I had lots of advanced circuits, and also a number of defender capsules. Generally my strategy for the humongous hives that remain, is to run around while the capsules do most of the damage. I throw lots of grenades, too, but those aren't too helpful these days. I have 5 exoskeletons on, so speed isn't an issue (I'm nearly as fast as my trains.) I think the defender capsules will ultimately be more useful than the grenades as destroying the spawners, even if I have to sacrafice the personal protection of the destroyer capsules following me. I could always go back to 9 shields with 3 exoskeletons. But, when I get hit enough, recharging those shields leaves me slow for way too long! My suit has 2 fusion plants, but it needs more power too! So, instead, not getting hit at all might be the best option.
Until then, I spend a lot of time just getting more resources. Even the largest coal fields don't last very long. That's why I'm trying to switch to oil. What I really wish I had was nuclear.
Miscellaneous images.
This game is fantastic!