Mod Info:
Many people take a strategy of "if it's green and not an assembling machine, tier 3, destroy it. If it's not covered in concrete, make it so. If it moves and is not electric, make it stop." A strategy of "oh, that noxious cloud of crap being spewed out by my furnaces, assemblers, refineries, and boilers? That's the smell of
progress
."
Well, you
can
try that with NauvisDay installed, but it will probably come back to bite you in places I am probably not allowed to mention, be it directly when all your offshore pumps clog with goo, your precious treefarm looks like you fed it napalm instead of fertilizer, or indirectly when the local wildlife tears a hole the size of a moon through your defences or chews apart your rail or power lines then makes very short work of your mining outposts.
NauvisDay makes management of pollution and the environment a much greater concern than in the base game. That comes in part due to a much harsher pollution model, which greatly penalizes dirty industry (anything burning coal, refining oil, and/or cobbled-together like Tier-1 assemblers) and ensures whatever pollution you do create ends up drawing unwanted attention. Pollution also has much nastier effects, including total destruction of plant life (more than in the base game) and, at extreme levels, the contamination of water sources to the point of unusability. Not to mention making the very air itself unbreathable.
If you feel this would turn the game into hardcore mode, you need not fear: With some new tools, including cleaner, more "green" hardware (such as gas-powered boilers, steam-powered furnaces, and more natural, non-plant-killing flooring materials), and some judicious use of pollution management infrastructure, you can avoid most of those effects, if you plan well. Note well, however, nothing comes without cost: Cleaner machinery is generally more expensive or performs slightly worse than the dirty counterpart, and what pollution you do create cannot be destroyed entirely - only moved around or exchanged between forms. And you can only put it off to a point.
Screenshots/Video:
Pollution De-Aerosolization Machine (converts air pollution to polluted liquid sludge for more convenient management):

Long-Term Underground Storage, an effective but costly way to deal with sludge: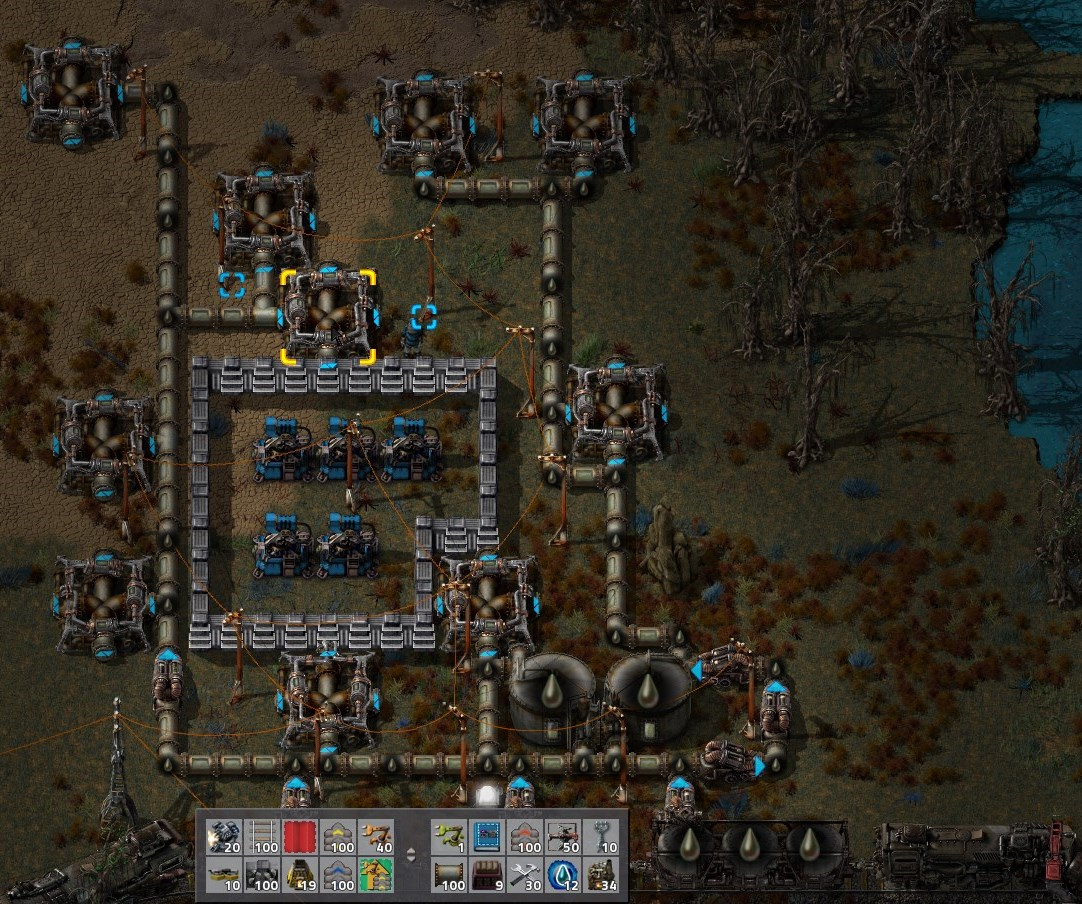 Pollution Dispersal Fan, for lowering the regional pollution levels, at cost of spreading it over a much wider area:
A typical "I don't care" pollution cloud:
A treefarm ravaged by pollution: