After finishing several games with different patches I finally wanted to go build a mega base with a science production of 1000 per minute.
I've started with a modest factory to get all the non-repeatable research and acts as mall. Now the research is done, and I want to prepare everything for going big.
This is my current base: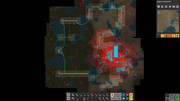 For now my powersupply is done by a large solar array good for 110 MW, and the old factory is completely belt-based with a central bus. I've cleared out and secured a large area north and west of my base for grabbing those resources and getting building space. I might enlarge that area again if necessary. I've plenty of U-235 available, so I'll also be able to switch to nuclear power on a larger scale.
My overall strategy is to build several belt-based subfactories like Iron works, electronics, oilproducts, specific science packs, etc. and connect those with trains. Each subfactory might need several inputs and provide several outputs. So I must be able to handle this.
I've created an excel table which calaculates how many machines, miners, etc. I need taking into account speed bonuses and productivity. While working out an easily scalable design for production chains isn't that hard, the logistics cause headaches for me.
For example, I plan to use miners with one productivity and two speed modules. With that (and using productivty modules everywhere possible in the chain) I'll need almost 600 miners for both copper and iron. There are lots of small and big ore patches around, but I have somehow to collect all of them, and bring them to central smelting areas. Now these smelting areas would have 24 rows each which can fill up a blue belt fully with plates. This means I'll need train stations with a complexity I've never used before.
The first question I was pondering about was how large should I make the trains. First I did some math. Apparantely, three staple inserters with their maximum capacity are capable to fill up a blue belt completely. Of course, if I start to load and unload from trains I'll have times in which no trains are present, so filling or emptying one belt with just three such inserters will not be sufficient. I think using six for a belt is a good compromise - which happens to fit perfectly to a side if a train wagon. This means that such a train station needs to be actually unloading 50% of the time at least. I'll assume that this is managable.
Now, I use six inserters to fill up a single belt, and I use six wagons per train, two unloading/loading stations should suffice to serve a smeltery. So my first plan is to use two locomotives and six cargo wagons for those smelteries with two unloading stations for each. For those with more experience - is that a feasiable plan or are my assumptions too optimistic?
The next issue are those trains coming and going to factories with different goods. For example I want to process the iron plates directly into steel in my iron works. I might also produce gears and engine units directly as those don't need any thing else than iron and steel as input. Now my iron works would have four different products to offer. Many other factories will require some of those, but most likely not all of them. And if the requesters need steel, iron plates and gears, they'll need it in different ratios each.
So, should I use different trains for each product? This would lead to lots of train stations and lots of additional trains. Or should I use specially designed trains for each requester, bringing in all needed goods in an appropriate ratio? The latter will make loading and unloading far more complicated, as these ratios will most likely not fit to one wagon for each product.