After many hours of coding, spriting and prototype definitions, I bring you:
Automated Red Alert harvesters
This mod brings back the fully automated, fully
animated
Red Alert harvesters for your pleasure! (And profit, of course)
Image. Image? Image!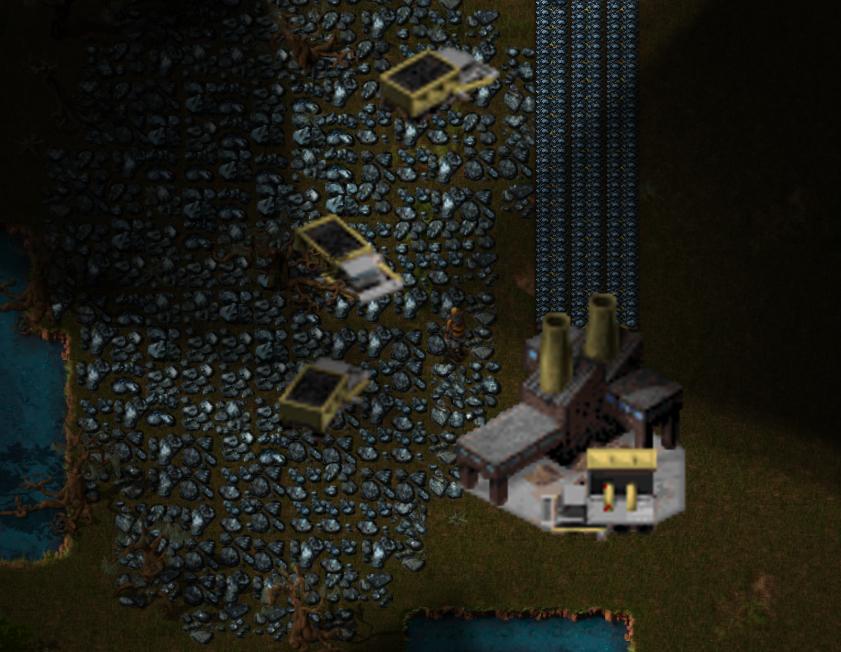 That's not enough? Ok, here's a gif:
Optimized by imgur
.
How does it work? A step-by-step guide:
1. Research the technology. (/c game.players[1].force.technologies["Old-World-Harvesting"].researched = true)
2. Craft a refinery and any number of harvesters. (About 200 should do)
3. Place them down.
4. Place a belt at any (or all) of the three lanes shown above. (Or don't, you can use inserters)
5. Put coal in the harvester(s). (You didn't think it'd be free did you?)
6. Sit back and watch the resources roll in.
More information:
Animations!
No belts are required! Place one or two (or 24) inserters and watch them pluck the resources from the refinery with weirdly extending arms!
The harvesters automatically refuel at the nearest refinery that contains the fuel they're currently using, so make sure it's available.
The refinery is also a smart chest, this allows you to do many things. (Such as maintaining the fuel supply)
The refinery will always try to keep at least a stack of each fuel containing item it contains.
Sorting the ores is up to you. It won't be done by the refinery.
There's probably loads of bugs, so do please report them.
Known issues:
There's no preview when placing the harvester. Just place it and it'll appear.
The harvester ignores every entity on its path, this is due to the nature of its movement. The only way to move/turn an entity in script is to teleport it.
Q&A:
Q: Isn't this overpowered?
A: Probably, but it looks cool!
Q: Why can't I drive them?
A: Why waste your time driving them if you can let them do the driving! (Also, that mod already exists, albeit quite outdated)
Q: Can I use your mod for ----?
A: PM me and I'll quite probably say yes.
Q: I love this mod!
A: That's not a question, but do please let me know in a reply! It's comments like that we do this for!
Latest version:
Special thanks/credits:
McSpiffy
, who built the mod that inspired this:
[MOD] 0.9.X]Red Alert Harvester V0.0.5
(Which I've used the recipes from)
The people who helped me at
Maximum number of frames
The creators of Red Alert, who I've shamelessly taken the sprites from. (It's
free
nowadays, so
go play it
!)
The factorio team, for making a game I spend too much time playing and modding on.