Fast Inserter

Posts: 115
Joined: Thu Oct 27, 2016 6:21 am
Contact:
it crashs all the time when I try to remove some rails.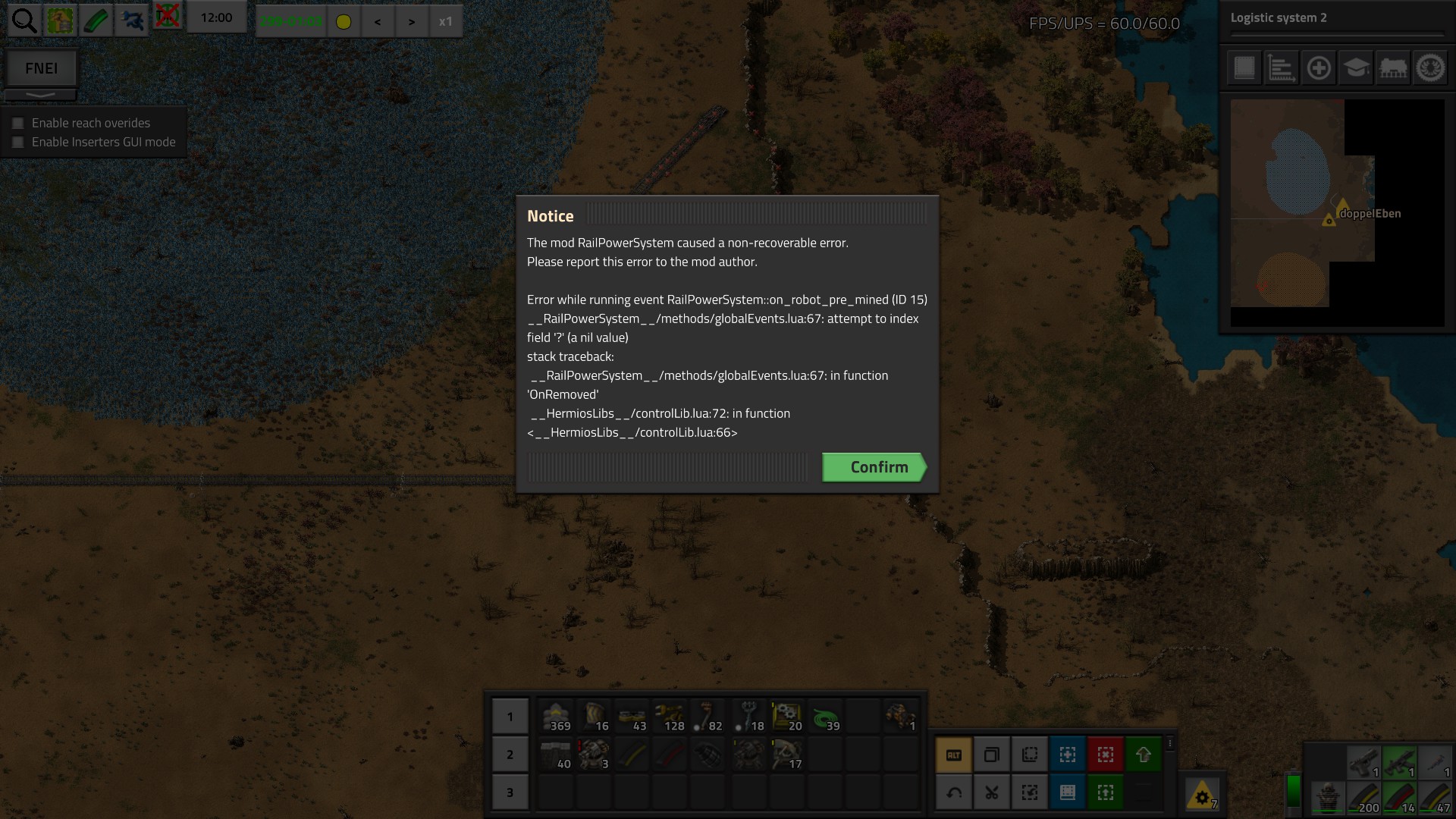 ---
Filter Inserter

Posts: 586
Joined: Sun Jun 09, 2019 10:40 pm
Contact:
Last time I went looking for your "Train Signal Sender" mod, I couldn't find it. I looked for all sorts of variants of "Train Signal Reader" or whatever, because I couldn't remember what I was actually after, but i knew it existed. Perhaps you would consider adding to the name so it is "Train Signal Sender / Reader" or something like that?

I mean, I know, it isn't exactly a big thing, but it would have helped me find it, and so perhaps it'll help the next person along find your work too.
---
Hey
Sorry, I don't really understand your message.
Are you looking for the mod "Train Reader"? If yes, I deactivated it, some times ago, since the train stop is now doing the job. No need to replicate.
If you are looking for something else, please explain, so I can help.
Thanks

Niko
---
Filter Inserter

Posts: 586
Joined: Sun Jun 09, 2019 10:40 pm
Contact:
---
Burner Inserter

Posts: 7
Joined: Fri Oct 07, 2016 10:57 am
Contact:
Hello Hermios,
I posted a bug on the mod portal, but then I remembered that it may not give notification about new threads. So I'll post the same report here. I'm sorry for any inconvenience this may cause(?)...
Edit: The mod in question is "TrainsSignalSender".
Anyways, copy of report on the mod portal is below:
--
Game crashed to main menu. Steps to reproduce:
Create a train that sends a signal from the train, complete with schedule and some cars. Not sure if necessary to have it actually run through automatic mode, but in my test I did that..
Turn "automatic" off.
Remove only the locomotive (leaving any cars behind)
Put another locomotive to the train.
Turn on "Automatic" -> Crash. (It says something about index out of bounds).

The reason why I was replacing the locomotives was switching to nuclear locomotives (another mod), but I checked and it doesn't seem to be caused by the type of locomotive.

Also, there is a work-around: remove all signal definitions from the train and then replace the locomotive.

I also noticed that the signal sent from the train remains when the locomotive is removed. It might make sense to stop sending signals from the train when the "automatic" switch is turned to "manual" on the train. (I'm not sure if that is possible).
---
Hi Cremionis
Actually, there are notifications now, I received your request

. I am very busy yet, but I'll look at it when possible. I'll answer on the portal, then. Thanks anyway for the feedback
Niko
---
Burner Inserter

Posts: 7
Joined: Fri Oct 07, 2016 10:57 am
Contact:
Oh. They have improved the mod portal. Great!
Anyways, take your time. As there is a work-around, this is more at the level of "inconvenience" than a dead end problem anyways! Thanks for replying!
---
Burner Inserter

Posts: 8
Joined: Wed Jan 15, 2020 5:56 pm
Contact:
Hi,just to inform, this mod is not compatible with Engame defense. It cause an error.
---
Hey Hermios.
I have ben using your RailPowerSYstem recently and have noticed the errror when you try to remove rail tracks. I have noticed another post raised the issue on this site. I was wondering:
have you fix this bug
would yoou be able to look into the issue
Thanks in advacne
posted an image of the error
Attachments

2020-08-25_17-56-46.png (310.17 KiB) Viewed 167 times
---
Hi.

Can i set train signals from circuit net?
---
Users browsing this forum: No registered users