Preface
As someone who has 600 ping at all times (Sattelite internet, I live in the middle of nowhere lol) multiplayer is almost unbareable. I'm constantly having a stuttering connection and things are teleporting around. A lot of games are still playable, but not Factorio which I really think would have already had this suggestion, since it's a sandbox based game.
TL;DR:
Factorio has a HORRIBLE multiplayer support for those with even slightly bad internet that
most
games already compensate for.
What ?
I'm gonna say this once as loud as I can:
LATENCY SUPPORT
For those that have the blessing of good internet, this is what allows the game to actually be playable. I guess in a way it can be described as the computer lies to you and tells you what's *probably* happening instead of completely lagging out. Here are some examples of just how bad my internet is: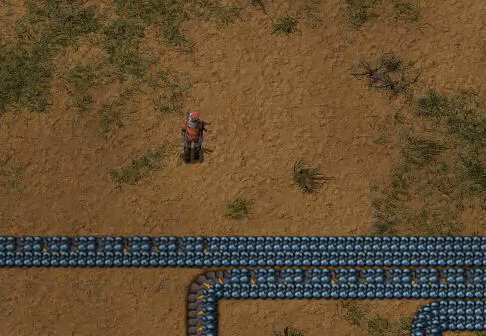 In the second example, I'm actually clicking and waiting for the item to finally transfer into my own inventory. Which really shows you how tedious gameplay can be. I think the biggest things that require latency support are entitites such as players and aliens, because otherwise they start teleporting around (including myself) and the other thing that needs support is items. I shouldn't have to wait a whole second to transfer one item seemingly. For the software developers in the room:
Say "NO!" to Authorative Server Control!
Why ?
I mean, the explanation to me is in itself. It really makes the game more playable. Even people with good internet might have that blessing falter occasionally. I for one really want to play with friends but it's just unbareable and if I host it, it makes it worse for them because they're not even used to it. So many games compensate for latency and have support for it. Especially sandbox games. Minecraft is a great example of this. Have you ever seen an item just teleport back to a chest and into someone else's inventory after you take it? (Probably not if you have good internet) This is an example of latency support and it atleast makes the player think they have the item so there's less delays. This would really put the game together and make it a more user friendly experience in multiplayer.
Anyways,
Thanks for reading, I really appreciate this and I really hope people can support this idea. I'm certain I'm not the only one that thinks playing with others makes a game even better, but for me it's worse on Factorio. Let me know if I need to edit something; this is my first
post
thread! (Already had to edit lmao.)