Sorry it's a long one!
The Idea
This idea came to me when the devs announced the humongous biter (the giant biter that reduces lag by removing many single biters).
I got the idea from the giant flying aliens from the Avengers Assemble movie: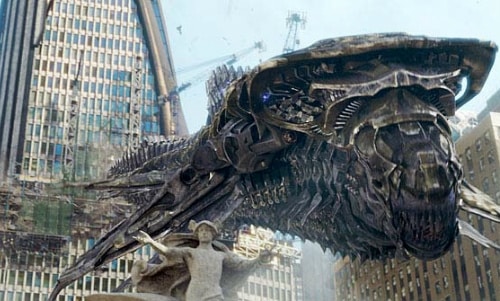 I remembered them from the original film and when I saw them in the new one, I thought they looked like biters!
What is it?
Basically: It is a giant flying biter that carries multiple biters/spitters inside it.
Its job is to deliver biters to colonise and set up new bases or to transport them to attack your base.
There are two main reasons for them:
1) They would work with the humongous biters to reduce lag. I don't know much about the game engine but I would assume that lots of biters pathfinding through forests and terrain would create a small amount of lag. The giant flying biter would not need to pathfinder as it would beeline to its destination. Also it does not need to render so much as there is only one thing (all the biters/spitters are inside). Even if it doesn't reduce lag that much, it's still pretty awesome!

2) To change how you think about fighting in the late game from:
"I have my super awesome power armour and my piercing combat shotgun and nothing can touch me - I am invincible!"
To:
"I have my super awesome power armour and my piercing combat shotgun and nothing can touch me... Aaaaggggghhhhhh!!! A ginormous flying biter is coming! OMG - it is so big! I feel so small and insignificant!"
They also look awesome and would change the aliens' side to look cool as well as terrifying! (See above)
See eel like motion:
https://youtu.be/NvY_sMf9b_Q?t=20s
Example uses
(Everything here is just an idea)
They spawn around an enemy base and each loads biters and spitters into its body from the ground (from underneath/behind/through mouth?). They then fly in their swooping motion (like an eel) to:
1) another space of blank ground where they are dropped off to colonise and the empty flying biter waits there until it is needed for another task (can be from another base)
2) your base where they will drop the attackers off and retreat (usually - more on this later!)
I would suggest having a set number spawned and if one dies, another is spawned so there are never too many (this number can go up as you produce more pollution)
They are very well armoured and need a lot of firepower to bring down. They move faster than normal walking speed but can be caught up with a few exoskeletons. Normally, all biter problems can be solved by a solid wall of turrets but these cannot as they are so strong AND they are smart enough to deposit their attack force outside turret range! The biters and spitters then attack normally so nothing is changed there until later...
Evolution
There are many ways you could integrate these into the game. For instance:
Early game: Barely ever found. Only transporting biters/spitters to new base sites.
Early mid game: Found more commonly transporting biters/spitters to new base sites.
Late mid game: Still found transporting biters/spitters to new base sites. However, they now transport them to your base, unloading just outside your turret range! They will only transport loads which include at least some medium biters/spitters.
Late game: The same as late mid game but every (2?) days, a giant flying biter will fill up with enemies and fly directly to an area that is angering it - this can go over turrets so it is likely to be a suicide mission.
Attack!
The area that is angering it can be turrets but they can also fly directly to the main sources of pollution such as furnaces. If they want to attack turrets, they will fly to the side where the turrets are undefended! If you are well enough defended, you can kill it before it lands otherwise it will deploy many biters and spitters right in the centre of your base!
Another target would be the player! You may find that even power armour and a shotgun might not be enough for this and you'll have to retreat to some turrets!
If you do manage to bring it down, it will drop all the alien artifacts of the biters/spitters it contains and more for itself. However, it will severely damage anything it lands on - including you!
Extra Ideas:
They could carry one humongous biter
The biters could learn to suicidally explode on contact with the ground (natural bombers!)
If they are on your side (multiplayer), they could be tamed into airships and carry players instead
There are some problems though:
Although it reduces the lag of the enemies travelling, there is still a large number of biters/spitters attacking in the end.
There may only be one entity but it will have to animate and weave realistically.
I appreciate constructive criticism but please be kind as I had to write all this out twice as I lost the first one