Story
So me, my little brother and my big brother had this vision of a Factorio server that would be constantly running even if no one was connected. So I sacrificed an old laptop to run Headless Factorio server and bought a mobile internet thingy (because they are cheap) and we started our journey. The thing with the mobile internet tho was that it sometimes changed IP address so I had to post status updates (that is, the new IP) to our whatsapp group. Getting tired of doing it manually I decided to write a program that would upload the new IP address automatically to a website that would have a static IP. All was fine until we decided to install some mods which resulted into Factorio server to crash occasionally which again meant that I had to manually restart the server everytime it did.
...And then the map got bigger which meant that the caching-up phase got intolerable (as map download took longer). And server-settings.json didn't have any options to pause the server when a peer was connecting. So the program I initially wrote for a quick dirty fix got bigger and I got carried away.
So now that it works somewhat I decided I would share this program for all those who want it for similar reasons. Source code included.
Features
- Able to read console output and send input as well
- Restarts server if it crashes
- Able to pause the server when a peer is connecting, greatly reducing catching up phase
- Can write commands in-game to control the server
- Able to bind to public IP address to work as a server program that even has a GUI and can potentially be controlled from a website
- Able to to periodically connect to a selected web page so that e.g IP information can be uploaded
- Able to take real-time screenshots to send thru web page if requested (of the server interface, to see if the computer messed up, it can't take in-game screenshots)
Static Website:

Web interface: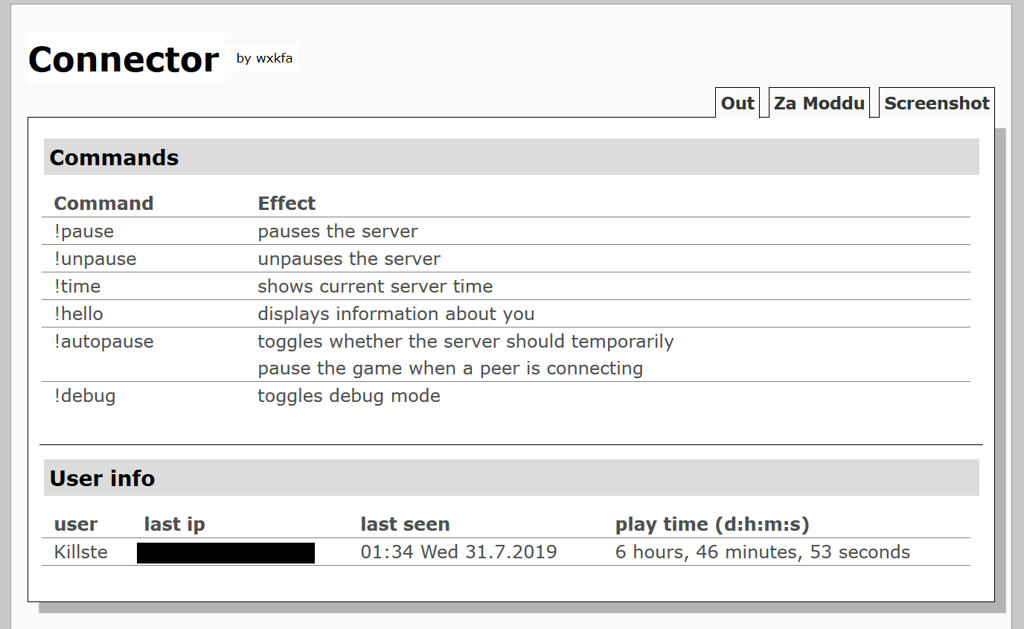 In-game:

Download
:
http://www.mediafire.com/file/8wtrvjklz ... o.zip/file
Instructions
1. Unzip the file
2. Edit
startup.cmd
and change
--start-server-load-latest "FACTORIO MULTIPLAYER 0.17.zip"
to match your map file
3a. If you want to send IP information to a static web site then edit
host.txt
and write the host name in there (
www.example.com
)
3b. Upload the folder
servu
to the web site you wrote to
host.txt
4. Run
Connector.exe
. You can access its server interface from the link from of your <yourhost>/servu website.
5. If you wish to change the program's behavior edit
Connector.cpp
and compile it.